The Waves (colors), 2022

3 typewritten pages on A4 paper, custom wooden frame, anti-reflective glass, 72 x 40 cm.


Released in 1931, "The Waves", Virginia Woolf's seventh novel, is considered one of her most daring and challenging. The book traces the lifetime of six friends through nine chapters, from childhood to old age, by making parallels to the changing position of the sun and the tides. As they reminisce about their collective past, their thoughts reverberate in a swarm of colors gliding over the pages.

"The Waves" suggests that every human being is a distinct living unit while simultaneously being a part of every other unit of human life—that is, that we are part of one another. Reflecting Woolf's concern with capturing the poetic rhythm of life, the intricacies of the mind and the passage of time, the novel questions whether language is capable of embodying everything we want to say.

Inspired by Woolf's understanding of one's attempts to find a way out of their loneliness, I imagined an alternative way of experiencing her novel, using all the colors mentioned in its pages. The resulting work is a 3-page typewritten text work, dividing all 675 colors in sections corresponding to the nine chapters of the novel. Functioning as an enigmatic formula, the work dreams up all the colors shaping the events and relationships of a lifetime.

Click here to read the text (EN) about the exhibition showing the piece alongside works of Ann Veronica Janssens and Patrick Carpentier at CCINQ, Brussels, Belgium, 2023.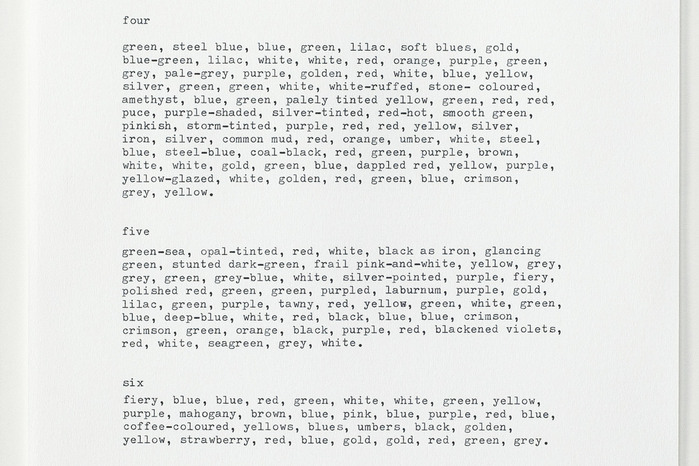 Next:
The Waves (colors), performance
See More ›